When comparing vinyl vs laminate flooring, both options are attractive and easy to install. The 'better choice' is subjective and depends on your preferences. Both offer an advantage over the other in different areas.
The qualities of vinyl flooring
Vinyl flooring sheets and tiles are typically made of a fibreglass base coated with PVC vinyl and a plasticizer. The surface print layer can mimic hardwood flooring, stone, porcelain, and just about any design or material you can think of. Overtop of the print layer is multiple wear layers for protection and durability. Luxury vinyl plank flooring is made of thicker, multiple-layer PVC vinyl and interlocks side-to-side for easy installation.
The qualities of laminate flooring
Laminate flooring is quite similar to luxury vinyl planks with the main difference being that the core of laminate flooring is made from wood products bonded with resins. The print layer is covered with a durable and transparent plastic wear layer.
To help you choose the right flooring option for you, we've created this vinyl vs laminate flooring comparison guide based on common factors that customers are looking for.
Best for water resistance: vinyl
Best for maintenance: vinyl
Best for appearance: laminate
Best for comfort and sound: laminate
Best for durability: vinyl
Best for environmental impact: laminate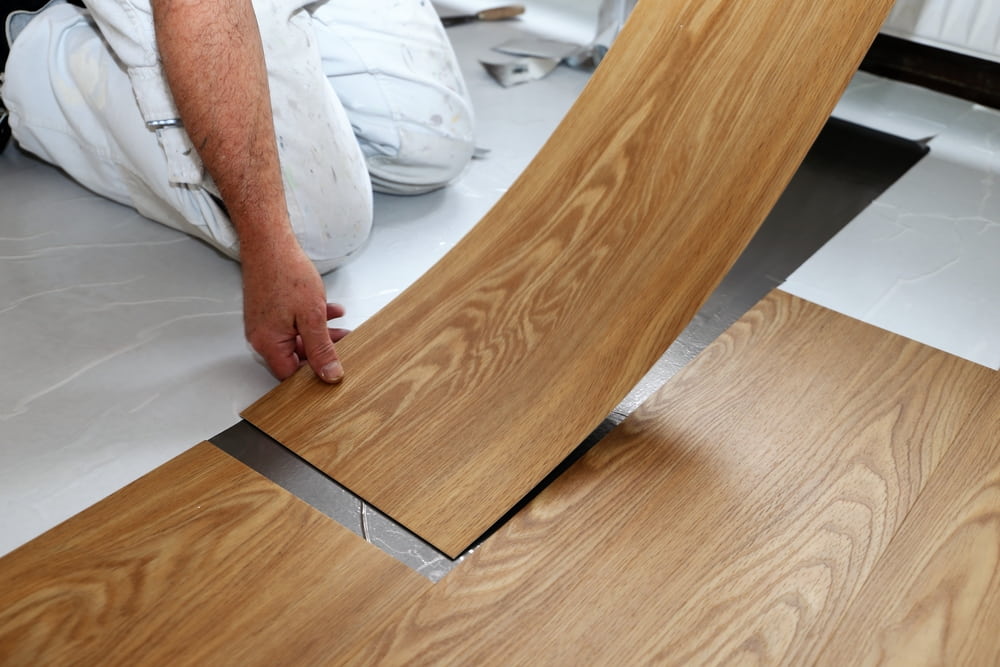 Water Resistance
If you're looking for water-resistant flooring, vinyl is your ideal choice. If installed correctly, vinyl can withstand high-moisture conditions or where water can be prevalent, including bathrooms, kitchens, mudrooms, and basements. It won't warp or buckle like hardwood flooring.
Laminate flooring, on the other hand, is more susceptible to damage from moisture and standing water. Because its core is made with a wood product, moisture can cause laminate flooring to buckle, warp, and separate. The design layer can also peel away with water damage.
Maintenance
Both vinyl and laminate flooring don't require finishing or need special precautions for maintenance like other flooring types. Vinyl plank is an easy floor to clean with a mild cleanser and a traditional mop. Avoid using a steam mop to clean vinyl flooring.
Laminate flooring is also easy to maintain. However, it's important not to use a wet mop on laminate and wipe up any spills as soon as possible. A broom or dust mop on laminate is all you need for a good clean!
Appearance
Vinyl vs laminate difference in appearance has to do with the design layer. While vinyl plank flooring allows for deeper embossing, laminate's surface print layer will more closely mimic hardwood, ceramic, stone, and other designs.
Comfort and sound
Again, because the core of laminate flooring is made of wood content, it's slightly more comfortable than vinyl flooring. When combined with a quality underlayment, laminate provides a more quiet and comfortable surface for high foot traffic and young children compared to vinyl.
Durability
Unlike hardwood, vinyl and laminate flooring are both resistant to scratches and dents and relatively easy to repair if damaged. When comparing vinyl vs laminate differences in durability, vinyl has a slight edge because of its water-resistant properties.
Environmental impact
When it comes to vinyl vs laminate flooring, neither of these materials can offer the sustainability of natural wood or bamboo flooring. However, because laminate's fibreboard core contains natural wood, it has a slight edge compared to vinyl.