Your dream home should come at sparing no expenses. Hardwood floors are the key element to your new life. When you wake up in the morning for that hot cup of coffee or tea… I love my coffee… I really love planting my feet on the natural warmth of hardwood floors.
There is a vast variety of flooring options to choose from different flooring providers in Calgary, such as many types of hardwood flooring carpet, tile, laminate, vinyl and even some would choose concrete flooring.
There are some important choices to make when choosing your new hardwood floor.
You must ask yourself, "How do I want my hardwood floor to look in my dream home?"
When you want to get hardwood floors installed in your home, you will want to ensure they are finished in a way that is pleasing to the eye. You can go with the natural look of the flooring or you can stain it with a colour that best suits the rest of your home.
Always take into account the colour of your furnishings and whether you like a room to feel lighter or darker before choosing the stain for your wood floor.
Also, the width of the flooring boards is something to consider. You could go with thinner or wider widths, and choosing your depth is also super important.
A thicker floorboard with a thicker underlay provides more cushion when you walk on it. So remember that the underlay is very integral to the comfort of walking on your new hardwoods and to no cheap out on a thicker underlay.
If you recently just purchased new hardwoods for your home or have just discovered some under some carpet and ended up renovating them, be sure you give them a good sand and clean before you decide to stain them or varnish them. So many people make the mistake of skipping these steps and your stain and varnish will not hold up unless you sand and clean the floors well. Also, don't forget to look for any staples still in the hardwoods that were holding down the carpet.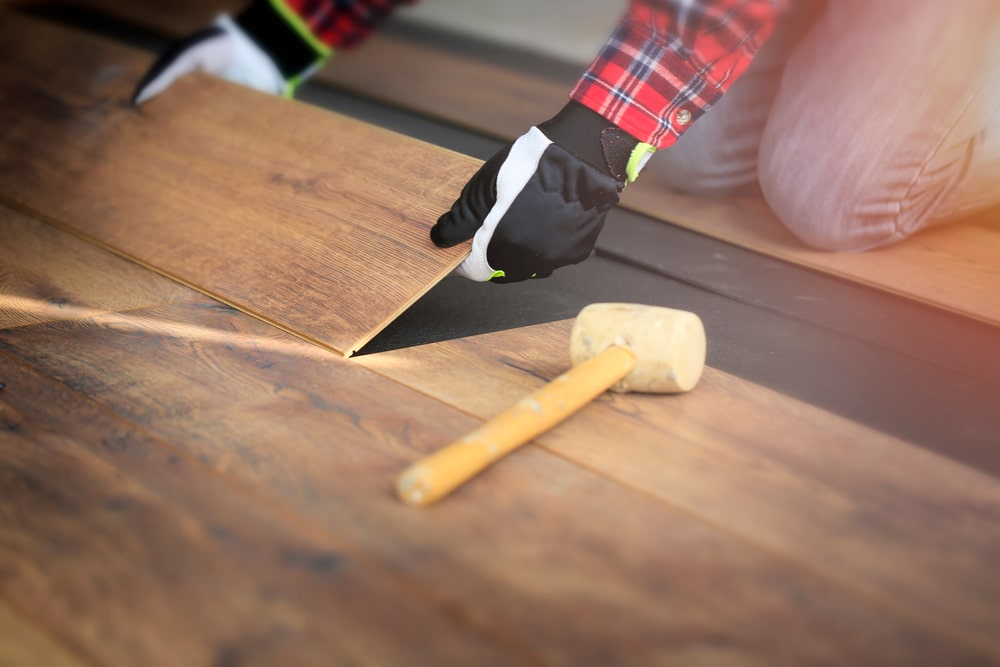 Maintaining your hardwood flooring
Clean your hardwoods with an approved hardwood flooring cleaner. Be sure to use a vacuum to get up all the dirt and dust and ensure when mopping that you don't use too much water. Water can ruin your floorboards.
A common and great way to clean your hardwoods when you mop is vinegar. Vinegar and water are commonly used to clean them and it does not hurt your hardwood floors. Be sure to avoid any cleaner that uses bleach as it is an abrasive chemical that can eat away at your hardwood flooring.
Extending the life of your hardwood flooring
Once you have your hardwood floors installed, it is very important to make sure you do not walk on them with your shoes or your boots. They can track in a lot of dirt and dust outside. This is how dirt and grime quickly build up in the cracks as well as wearing your shoes or boots can scratch the flooring for your new dream home. If you decide to allow your boots and shoes to stay on, ensure you check your tread carefully to ensure your boots or shoes do not have any pebbles or small rocks logged in the tread.
When you go to look for your new hardwood flooring there are so many different options you can choose from. Ensure you ask someone at one of your local Calgary flooring providers for a catalog so you can see all the potential options they carry.
Happy shopping or happy renovating… and congratulations on your new dream home! May your hardwood floors last long and remain a beautiful feature for you and your friends or family to enjoy for a long time to come.