Hardwood flooring is a timeless addition to any space for the warmth and elegance it brings. Hardwood is a versatile flooring option that can last for more than 25 years when maintained properly. The beauty of hardwood flooring often increases with age and adds value to a home.
If you're considering hardwood for your floors, keep reading to learn more about the different options available.
Solid hardwood
Solid hardwood floors are made from solid lumber cut into pieces. This option works well for living rooms, dining rooms, and bedrooms but is typically not recommended for bathrooms, kitchens, and mudrooms due to the potential of moisture damage.
Solid hardwood floors come in a range of finishes and plank sizes and can be sanded and refinished multiple times. Solid hardwood is a popular flooring option in Calgary as it increases a home's value and offers a classic look to any space.
Engineered hardwood
Engineered wood flooring is constructed with a combination of real wood and plywood or high-density fibreboard. It's finished with a top stain and protection layer, resulting in a water-resistant option that can be used in virtually any room.
Engineered wood flooring is common in modern homes. This option is available in various styles to replicate the classic look of solid hardwood flooring at a more affordable price.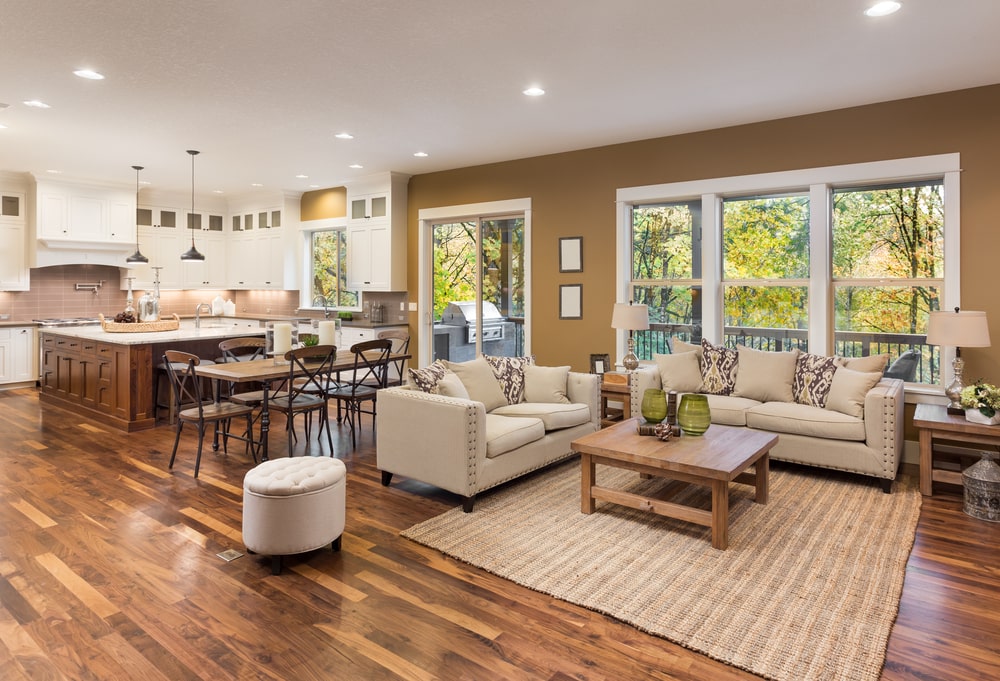 What are the different hardwood flooring species?
Oak – A popular option for a traditional look. It's an affordable flooring option that works well for a variety of styles.
Maple – A light-coloured species with brown grain lines, maple provides a clean and bright look for both modern and traditional decor.
Birch – Birch is quickly gaining popularity for many modern homes for the clean look it provides against white walls. This style of flooring is a timeless option that can be both contemporary and retro-inspired.
Walnut – Walnut offers a strong and attractive finish. While brown in colour, this flooring option tends to lighten with age.
Red oak – Common in traditional-looking homes, red oak is brown with a pink tinge. Ideal for homeowners looking to add a warm, classic tone to a space.
White oak – White oak flooring is light brown with dark grain lines and is a popular choice for many modern homes.
Bamboo – Bamboo is a durable and eco-friendly option that comes in a range of colours from deep cherry to light brown.
Final thoughts
When selecting your ideal hardwood flooring option, keep your room decoration in mind, and the quality you desire. Flooring provides the largest backdrop in a home that significantly impacts the look and feel of the space. There are many hardwood flooring options available that meet your specific needs, style, and budget.