The end result of home renovations is often always a success story of all the blood, sweat, and tears until you have that new home feel again. There are all kinds of things you can do to improve your home on the inside – and most of it, you can do on your own.
Be sure if you are dealing with plumbing, electrical, or any aspect of the frame that you consult ticketed expert tradesmen that work in those realms. I suggest that unless you already know what you are doing in DIY, that you leave these more difficult tasks to the experts. You get what you pay for, so ensure you are getting a quality tradesman with good references and reviews to do the job.
There are 3 big strategies you can use to make sure you have the best time you can while renovating your home.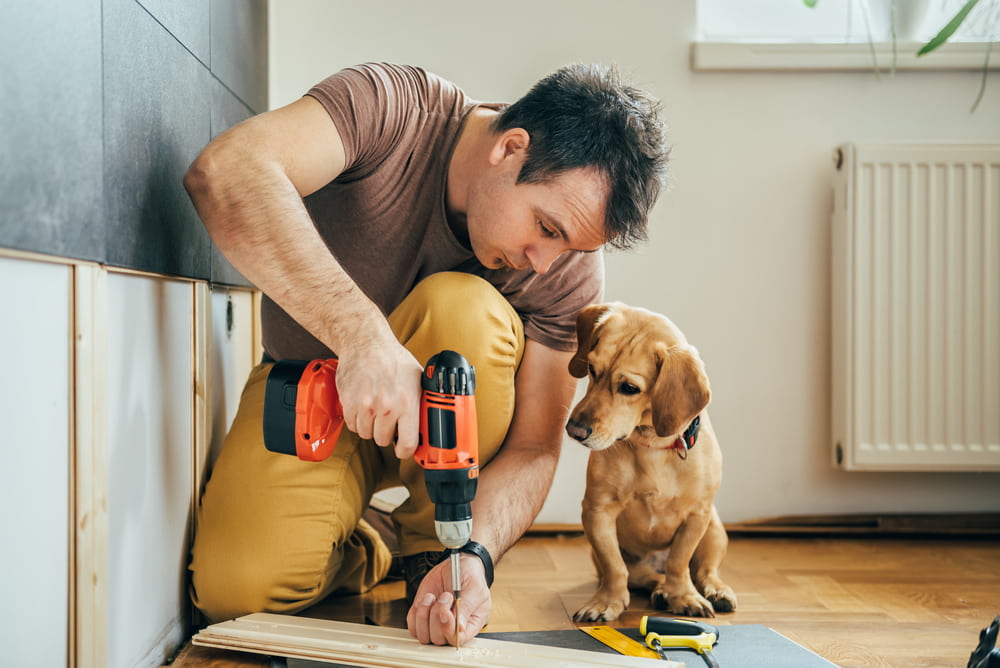 1 – It's the little things when it comes to renovations that keep you happy
When I remodelled my house, I always liked to jam out. I always had some great music on the go which greatly enhanced my mood while renovating. Make sure you have good tunes. Renovations without music would be like cookies without milk.
Make sure you have easy meals or snacks handy for breaks. Good food or snacks make everything more fun.
Good friends or family. Sometimes good friends and family could be a big help during renovations if you get lonely or just need that company for that shared feeling of comradery while you work and renovate. When I was renovating my first house with my wife, she and I had friends over once or twice a week. There were a lot of iced coffees, sharing of music, lots of bad jokes and, of course, there were some good breaks with beer and pizza.
2 – Make sure you plan your day
Setting up shop is one of the most important parts of your day. When you get to the area you need to renovate, be sure you get all your supplies laid out and ready. Clear out anything in those rooms before you start. Be sure to think to yourself about all the things you will need to do, what tools you will need, where you will need them, and set up everything ahead of time. This includes tunes, food, iced coffee, or energy drinks… just be prepared for your workspace to make you happy. This is important to a productive time for a better mood.
Estimate how many hours you are planning to work each day to set time aside for other living responsibilities. When I was renovating, I had to make sure I took two days off per week to get other pressing things done like lawn work, going to work as well as taking decent care of my fitness and health. It sounds like a lot to juggle, but you are the first investment that needs to be sharp and healthy so you have lots of energy, keeping aware, safe, and sharp while you work.
3 – Keep on track with your budget
When you start renovations, be sure you buy supplies for each room ahead of time. If there is a sale on supplies such as flooring, flooring stores in Calgary will typically suggest buying a couple of extra boxes of flooring to ensure you have enough to make up for mistakes. If you have a few extra boxes, you should be able to return the product if you have any extra stock left over. Doing this with most of your supplies is a good idea as long as you confirm when you are purchasing the supplies that you can return any extras that are still in the package. This will be based on the sales details and what flooring stores in Calgary you visit.
When you are doing renovations, it is important to stay flexible with both your time and your budget. Keeping an extra buffer of money set aside is a smart thing to do for anything unexpected that may come up.
One of the biggest stressors is when we run out of time and money. Be sure that when you are renovating, that you give yourself some room for error. Things won't always go the way you want them to and you may need to make some adjustments along the way.