During the 1970s, cork flooring was a prominent feature for households. In recent times, cork flooring has made a bit of a comeback and is quickly gaining popularity once again for its affordability, easy installation, and versatile attributes.
One of the primary benefits of cork flooring installation is that it's an easy and cost-effective process. While cork flooring comes in a variety of forms, the most common in residential applications are glue-down tiles and floating floors. Whichever approach you take, we've created this detailed guide to ensure a smooth cork flooring installation process.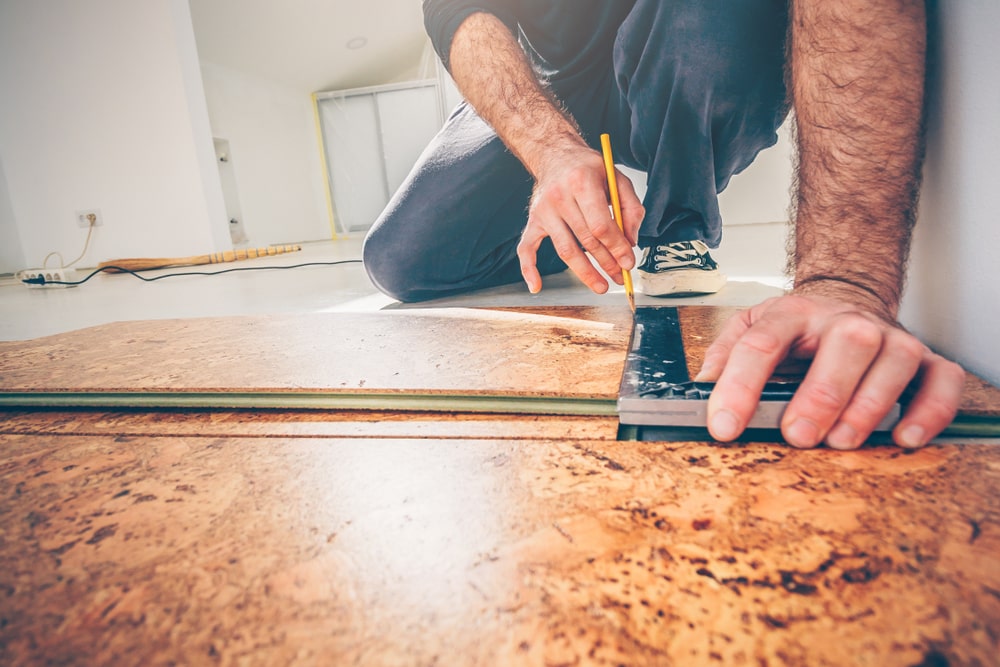 What Materials And Tools Do I Need For Cork Flooring Installation?
Along with your tiles ordered from your chosen cork flooring company in Calgary, below is a list of the necessary tools that you'll need for your project:
Graph paper
Chalk
Utility knife
Tape measure
Rubber mallet
Tapping block
A saw or tile cutter
Floor roller
Sandpaper
Vacuum
Drywall sander
Floor finish
If you are using glue-down cork tiles, there are two types of adhesives to use: contact cement and mastic. We recommend purchasing extra adhesive to avoid an extra trip to the store during the cork flooring installation stage.
Planning For Cork Flooring Installation
The quality of your cork flooring installation depends highly on your pre-planning. The more detailed the plan, the better the outcome will be. Measure your floor and, using graph paper, plan the layout and design of your flooring accordingly.
Once you've determined the centre of the room, draw your layout lines using chalk to match the dimensions of your cork tiles. Depending on the surface area of the room, you may need to cut tiles to fit.
Preparing Your Subfloor For Cork Flooring Installation
Cork must be installed on a flat, smooth surface. They are not to be installed over plank flooring, vinyl, or linoleum. If you are installing them over existing flooring, you'll need to first fix a plywood underlayment of at least 1/4 inch thick over top.
Any surface that is not completely smooth must be sanded and de-waxed before installing cork flooring as the cork tile will contour to uneven areas in the subfloor. Residue from pre-existing floor can be fully removed by scraping, using a heat gun, or a special solvent. The subfloor needs to be completely dry before applying cork flooring.
Important Disclaimer: If your home was built before 1980, there may be asbestos in the tiles or adhesive, which can be hazardous if it becomes airborne. Before removing any old flooring, call your local health department for safe removal and disposal.
Installing Cork Flooring
Begin installation by placing the cork tiles lengthwise along a wall. With floating cork flooring that locks together, place the tapping block over the tile to protect the surface. Using a rubber mallet, tap the block to lock the tile into place.
With glue down tiles, follow the same procedure and use the proper adhesive to secure the tiles. Cork expands and contracts as the weather fluctuates, so it's important to allow for about 1cm of extra space around the walls.
Sand And Finish Cork Flooring
Once the installation of your cork tiles is complete, pass a floor roller over the surface to secure the tiles. Using 100-grit sandpaper followed by 150-grit sandpaper with a drywall sander, sand any high spots or ridges and carefully vacuum the residue.
To finish your cork flooring, apply two to three coats of a waterborne or oil-based polyurethanes flooring finish. What you're left with is a new, beautiful cork floor.
Final Thoughts
To maintain your cork floor, regularly sweep or vacuum dust and debris. Use warm water, gentle dish soap or neutral chemical cleanser, and a microfibre or sponge mop to wipe the floor weekly. Lastly, enjoy your environmentally-friendly and sustainable cork flooring!